14 - 17 February 2023 | Exhibition Centre Nürnberg, Germany. 
BIOFACH 2023 – Agricoze into Organic Trade
World´s Leading Trade Fair for Organic Food
Your reliable Organic Ingredients Partner will be there at BIOFACH 2023 in Nuremberg from 14 – 17 February 2023.
With the ever-evolving nature of Humans, Consumers expect more and more now a days. When shopping, they expect not only exceptional taste and aroma experiences, but also the ingredient list be of high quality, appropriate shelf life, easier to understand and organic in nature. Keeping in mind the need of conscious, and learned consumers, we make sure our Organic Sweeteners and Proteins help our customers create products that meet those consumer needs.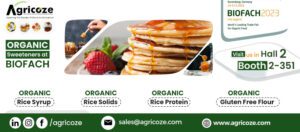 At BIOFACH 2023 we will be there with our full range of Organic Rice Syrups, Organic Maltodextrins and Syrup Solids, Organic and Vegan Rice Protein, Organic Rice Drink and Gluten Free Rice Flour. At exhibition we will also be launching Organic Rice Protein Isolate – Orysolate 80% and varying Bulk Density Maltodextrins and Syrup Solids.
About the Event 
BioFach is the world's biggest fair for organic products. It brings together more than 3,200 exhibitors and approximately 50,000 trade visitors from 130 countries. It is the meeting point for top suppliers and decision makers in the industry. This year it will be held in succession 34th time from 14 – 17 February 2023 at Exhibition Centre Nürnberg, Germany.